2dartist issue 119 is out now, featuring detailed tutorials, interviews with awesome artists, plenty of inspiring images– and more! Check out the sneak peek!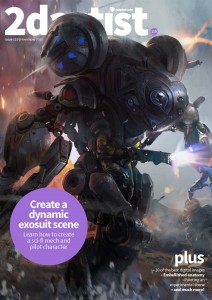 Welcome to issue 119, the latest issue of 2dartist magazine! This month features a speed paint tutorial by Donglu Yu on creating an historic landscape in only two hours, a tutorial on digital painting in the style of Peter Paul Rubens, and Ignacio Lazcano and Juan Novelletto show how to design a robot exosuit then use it in a dynamic sci-fi scene.
Also in this issue are interviews with Efflam Mercier and Fernando Acosta and another 10 inspiring Gallery images. Traditional artist Nunzio Paci showcases his nature and anatomy inspired paintings and concept designer Daniel Gish lets us take a look inside his sketchbook.
Discover the working methods of the multi-talented Efflam Mercier…
---
Catherine Steuer shows how to paint in Photoshop a Rubens style artwork…
---
Assassin's Creed: Syndicate artist Fernando Acosta showcases his work…
---
Concept designer Daniel Gish lets us peak inside his sketchbook…
---
Donglu Yu demonstrates how to create a light filled historical scene in only two hours…
---
Learn how to create a sci-fi mech and pilot character with a tutorial from Juan Novelletto and Ignacio Bazán Lazcano…
---
See how Doug Lobo developed his bright, intuitive image…
---
Quickly create a vibrant, light filled illustration like the digital art master Guillaume Ospital…
---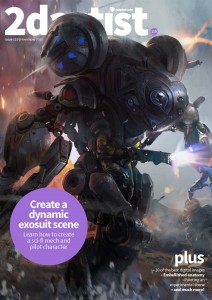 Related content
Did you know you can also buy back issues?
Check out 2dartist on Facebook