With over a decade of experience in the game industry Derek Stenning began a fresh start as a freelancer back in 2014. Derek shares his experiences, and advice in this flashback from February 2014…
Veteran concept artist and illustrator, Derek Stenning, has worked in the games industry for a decade as a production artist at studios such as Blackbox Games and NGL works. During this time he has worked on titles such as Captain America and Spiderman FOF.
After graduating from animation school and a short stint in that industry, Derek moved to a studio in Reykjavik where he had the opportunity to move into games. At this point Derek worked as a concept artist for a few companies in Vancouver where he really found his place in the industry and found that roles in production art in games allowed him more creativity and overall a larger impact on the final product!
Over the years since then Derek has largely stayed in the games industry, where he has worked on some great projects for clients such as Ninendo, Microsoft, Sega and Marvel Entertainment.
Now living in Victoria BC, with my wife and two children. With an enjoyment of subtle muted color schemes, beer and an affinity for Imperial German Headgear, Derek talks to us about the transition to freelance, the inspiration behind his EK series and what the future holds…
It was a little weird working from home at first, being away from a studio environment but I'm getting used to it
You've worked both for studios (Next Level Games and Microsoft Studios) and now you're freelance, could you tell us a bit about your decision to go freelance and the transition?
The decision was kind of made out of necessity.
When I started working at Microsoft we were working on amazing stuff, but over the time I was there, those amazing projects changed a lot and became more and more uninteresting.
As things got worse over a period of several months I came to the decision to leave. My wife and I wanted to stay in Victoria for a while but there wasn't a lot of employment options there for a concept artist so I had to go freelance or look elsewhere for work. So we decided to stay in Victoria and I let my contacts in the industry know that I was available for work.
The transition was pretty easy, I started working for Next Level immediately, and then I picked up work from few other companies. It was a little weird working from home at first, being away from a studio environment but I'm getting used to it and being able to walk the kids to school in morning is pretty sweet.
How did you get in contact with the ARTISHOX Art Agency? What advice can you give novice artists seeking representation?
Ben from ARTISHOX contacted me after seeing my work online and we started working together. I had work permanently on exhibit in his gallery in Hasselt, Belgium, and we did some other shows, and we sold some prints but unfortunately he had to shut down his gallery for health/personal reasons.
As for advice, make sure that you are on the same page in terms of aesthetics, values, and what you want to achieve out of the collaboration. Plus, you should have a clear contract outlining what each party will provide and be responsible for.
Of the different Exhibitions that you've had, which one is the most memorable and why? Which was the worst/hardest? What did you learn from it?
The most memorable show for me was the first State of the Art show I participated in up in Whistler. A bunch of my friends came up from Vancouver, and my friend Rory Doyle was also in the show so it was like a big party. The Art of Illustration show I did at the Cannon Gallery was also great, as it was an honor to exhibit with amazing artists like Dave Palumbo, David Meng, Omar Ryan, Stephan Martiniere, etc..
I don't think I've had a worst show. I have done a number of group shows in Germany and Belgium, but I haven't been able to attend these shows and have only seen pictures of those shows after the fact, or after opening night, so I guess in a way those shows haven't been as exciting or as engaging.
What is your favorite book? Why? How has it affected/influenced/shaped you?
That is a hard one, as I don't know if I can narrow it down to one book. My literary/scholarly influences are more of a patchwork and I think they would certainly focus on the works of authors as opposed to individual books, and each of these authors have influenced various aspects of me over the years.
But to try and name a few: Chomsky for instilling a healthy level of cynicism and for breaking out of the western paradigm; Colin Wilson for teaching me how to see and live in the moment and the work of Aleister Crowley for inspiration and reinforcing the belief in following one's passion to achieve growth and fulfillment.
I use the name 'Born In Concrete' to represent the idea of following your path, your bliss, your true will
Tell us about the idea behind the EK series and the birth of the name "Born In Concrete"?
Spending 10 years as a production artist had narrowed my view of my art. I found all my personal work taking the form of production art and I even began to think that production art, with its inherent complexities (telling a story, eliciting a particular emotion, incorporation game mechanics, fitting into a particular art style, etc.), was somehow a higher form of art.
The EK Series was about smashing these ideas, getting past them by creating work that had no story, no specific characters, etc., and getting back to creating my own art.
I use the name 'Born In Concrete' to represent the idea of following your path, your bliss, your true will, whatever you want to call it – the idea of doing what you were meant to do. I'm not claiming that the artwork I create is my sole purpose for existing, but I feel compelled to create my personal work and I can't imagine doing anything else work-wise, so I feel the title is apt.
Born In Concrete: The EK Series is your first book, what experiences and skills have you gained from the process of putting it all together?
The book is meant to finish off the EK series and is in a way the final piece in the project. As such I wanted to have as much input on the book as possible, and Design Studio Press was great, giving me as much creative freedom to do with the book what I wanted. I handled the design and layout, running my work by DSP for feedback, and they took care of everything on the production/publishing end. It was a lot of work but it was also a lot of fun.
The book features a section that covers the process and techniques that you use to create a piece from start to finish, could you give us a break down of what this entails?
I had done a step by step painting tutorial for Imagine FX a few years back that I had received positive feedback from so I thought it would be nice to include something similar in the book. DSP were very supportive of including a process or tutorial section in the book, as they publish educational art books as well and they figured this would help the book appeal to their target market.
The section itself starts with the idea, the initial sketch and then into the integration of 3D elements and material textures. These last two techniques were integrated into my creative process during the creation of this series as way to overcome my aversion to using them. From there I go through my painting process then I cover a few tips and tricks I use to finish off these pieces.
How has working on video game design changed your approach to your own work? What have you learned during paid work that you can apply to personal work?
I don't know how much it has changed my approach to my person work. It certainly has changed my ability to execute on my personal work, to faithfully recreate the images that I see in my head. Spending 40 hrs every week cranking out concept art and other content gives you a lot of time to work on your skills. It also introduces you to new styles and techniques as you work on different types of projects with different artists. Sometimes it can be difficult to work on projects that you aren't really interested in, but you can usually find an aspect of a style that you can sink your teeth into. Plus this gives you a different outlook and appreciation for styles that you do enjoy!
I'm working on a cool new project with Next Level Games in addition to working on a few other contacts, one with a new studio starting up here in Victoria.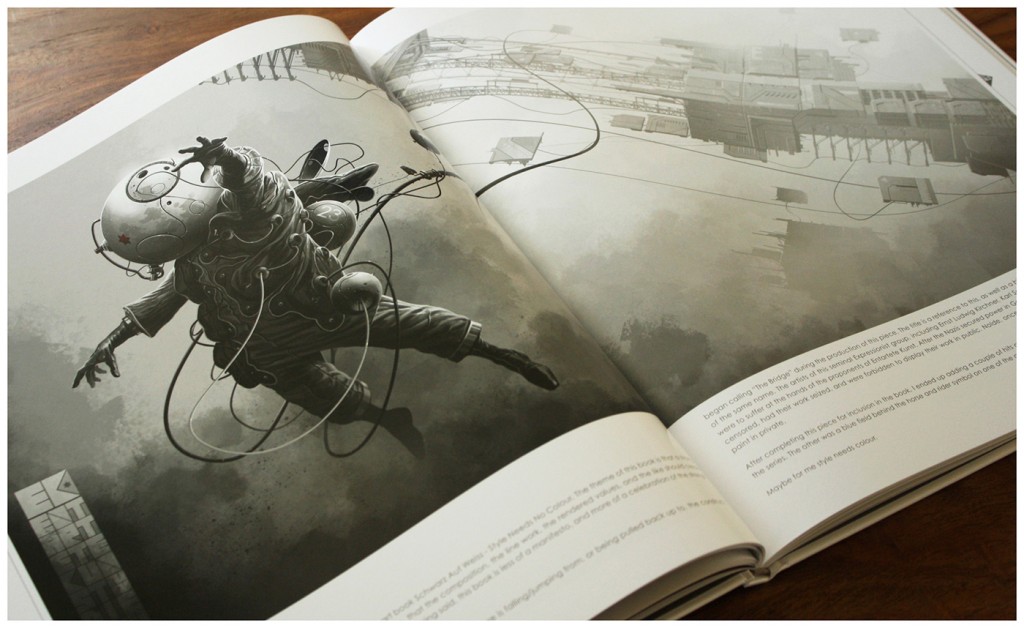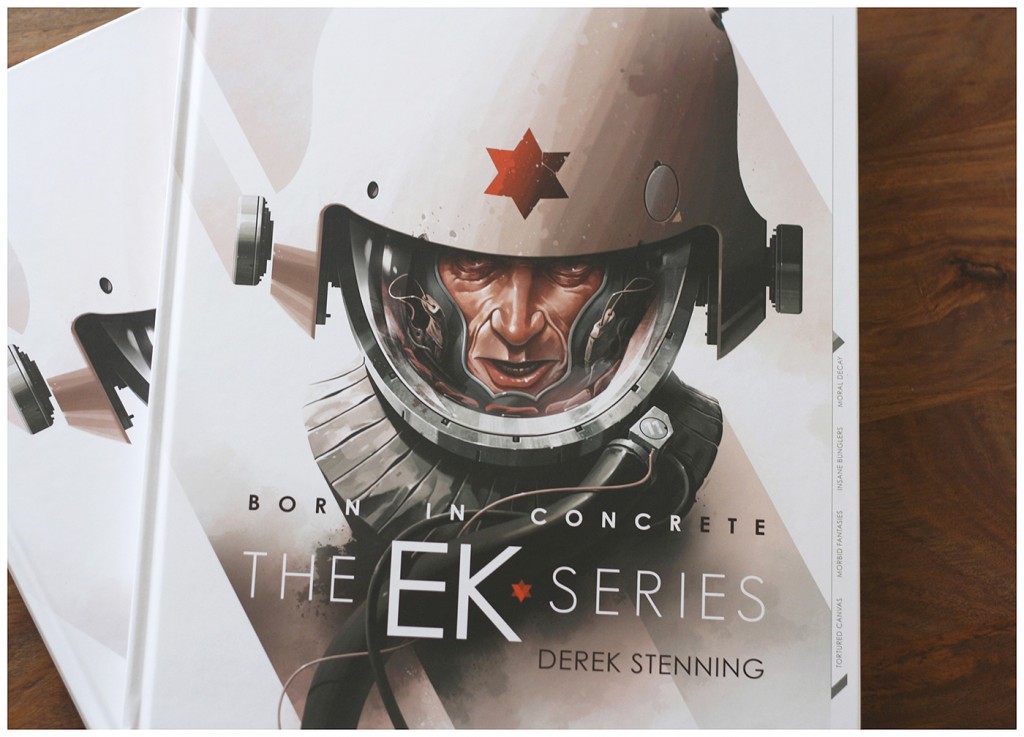 Finally, what are you working on now and what can we expect to see from you in the future?
I'm currently pretty slammed with concept work. I'm working on a cool new project with Next Level Games in addition to working on a few other contacts, one with a new studio starting up here in Victoria. I also have a couple personal commissions in the "EK" style going on and I have a few more EK model kits in the works with Industria Mechanika.
I'm also laying down the ground work on a couple of new personal projects, trying to find time to work on them and waiting to see which one I will become more interested in as I don't have the time to work on both. Hopefully my work schedule will slow down by late spring/early summer so I can get started. Until then you can keep up with what is going on with me at my blog, borninconcrete.blogspot.com, or at my website, borninconcrete.com.
Thanks for taking the time to chat with 2dartist!